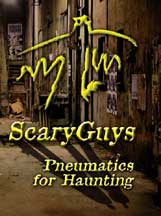 There's lots of information on the haunted web about great, original, air-operated projects. But there's almost no information about pneumatics and how it relates to haunting. For those experimenting with air systems, the learning curve is tough. Pneumatic systems have hundreds of uses in every kind of business applications, and that diversity causes a lot of confusion. There are pneumatic parts in all shapes and sizes, with all kinds of different specifications. These parts look quite different from each other and can make any haunter feel that pneumatics are just too complicated for them.
Here, in ScaryGuys first informative how-to DVD, we give haunters an hour-long, in-depth look at pneumatics and how all the parts work together to make your animations work. With overviews, demonstrations, hints, tips, recommendations, and detail views, we present pneumatics so anyone can feel comfortable assembling the parts of an air system and use them in their animations.
Get your ScaryGuys DVD now!